WELCOME TO THE County Budget & Finance OFFICE
The County Budget and Finance Office is a division within the County Finance Office and is responsible for the annual budget and strategic financial planning process and managing the County's public debt programs.  The functions carried out are aligned with the Board of Supervisor's adopted priorities, which include:
Stabilize the Budget and prepare for contingencies
Address and fund agency infrastructure
The budget cycle is continuous with the development of the Five-Year Strategic Financial Plan marking the beginning of the annual cycle as shown below.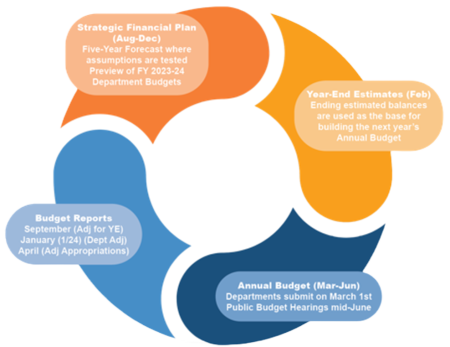 The County's public debt program supports the infrastructure needs of the County and the community by accessing funds for the acquisition and construction of public facilities, infrastructure, and projects supporting the well-being of the community. [statement about rating of bonds/instruments so that the link below makes sense] The Budget and Finance Office collaborates with departments to move countywide initiatives forward such as OC CARES which strives to integrate services across departments to address the needs of the residents of Orange County to work towards self-sufficiency. Feedback on the County Budget or Strategic Planning process or other fiscal services are welcomed.